Monday thru Friday 8:00 am - 4:00 p.m., Saturday by Appointment.
Able Glass' goal is to provide the best possible products and services available and to ascertain complete customer satisfaction.
Able Glass provides service throughout the San Francisco Bay Area. We specialize in window replacement. We also do custom screens and repairs, tub and shower enclosures, table tops, mirrors and more.
Able Glass has been in business since 1969. Eric Holder, the second-generation owner, has been involved in the business since he was 12 years old. As a family-run business, we take great pride in both our work and in our service. We are so proud of the work and service we provide that we guarantee it.
850 Aldo Avenue; Santa Clara, CA 95054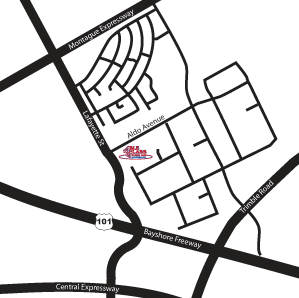 Depart Richard Ave toward Lafayette St 0.2 mi
Turn left onto Lafayette St 1.3 mi


Carl's Jr on the corner

Turn right onto Aldo Ave 456 ft


Rotten Robbie on the corner

Arrive at 850 Aldo Ave, Santa Clara, CA 95054
The last intersection is Lafayette St
If you reach Woodward Ave, you've gone too far
San Jose Mercury News West Magazine The West Best
Able Glass is the top vote-getter. Mrs. Goetz writes, "Eight words best describe their work; excellent customer service; experienced, courteous crew; beautiful results."
Mrs. Cooper adds, "I love my windows."
Mr. Barraclough writes, "Their office personnel are friendly, helpful and knowledgeable, as is their shop staff."
---
Dear Eric,
Recently your Company installed in our house new Milgard vinyl windows and patio doors. We were impressed by the professional manner in which Leo and his staff approached the job. The result of their efforts speaks well for Able Glass and Window.
Leo, in particular, is to be commended. His work far exceeded that which was anticipated. Termite damage was found to be relatively extensive at spots. His knowledge and his enthusiasm was clearly evident. Every question we had concerning the work was fully answered.
It was a pleasure to have Able Glass and Window as our contractors.
Sincerely,
Mr. and Mrs. Birkholz
---
Dear Eric,
We had a sliding patio door installed by your company in August and we would like to let you know that the crew consisting of Paul, Chuck & Dennis did an excellent job and were very friendly. We will certainly recommend your company to others.
Sincerely,
Mr. and Mrs. Schimpf
---
And many, many more... Please feel free to contact us for copies of the letters that our customers have sent us. We are proud of our work, and we feel that the letters we have received show that our customers are proud of our work also.